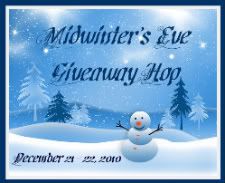 Midwinter's Eve is the longest night of the year so why not spend it entering some great giveaways.

The is a quick hop that runs from 12:01 AM on Tuesday, December 21st to 11:59 PM on Wednesday, December 22nd.

Each participating blog is hosting their own giveaway with their own entry requirements. All participating blogs are linked up through a Midwinter's Eve linky. After you have entered one giveaway hop to the next giveaway on the list.



Giveaways are labeled either US, US & Canada or International.


Should your name be on this list and isn't? Do you need your link deleted? Questions, problems, comments, etc. can be emailed to me at toobusyreading at gmail dot com.

Thanks for hopping by! Have a great Midwinter's Eve!




Santa Paws by Nicholas Edwards
The worst winter ever. The worst time to be homeless.

He was just a puppy when he found himself alone. Cold and alone in the dead of winter. He needed food, and water, and a warm place to sleep. He needed to find a way to survive by himself.

But who had rescued a drowning boy, found a blind girl's wallet, and helped a family escape from a burning house? Could it be the lost puppy?

The Winter Lodge by Susan Wiggs
On the longest night of the year, Jenny Majesky loses everything in a devastating house fire. But among the ashes she finds an unusual treasure hidden amid her grandfather's belongs, one that starts her on a search for the truth, and on a path toward a life that she never imagined.

A Christmas Carol by Charles Dickens
A Christmas Carol is a Victorian morality tale of an old and bitter miser, Ebenezer Scrooge, who undergoes a profound experience of redemption over the course of a Christmas Eve night. If the experience doesn't change Scrooge's ways, he will end up walking the Earth forever being nothing but an invisible and lonely ghost, like his deceased friend Jacob Marley. Mr. Scrooge is a financier/moneychanger who has devoted his life to the accumulation of wealth. He holds anything other than money in contempt, including friendship, love, and the Christmas season