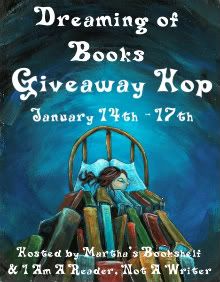 Hosted by
Reviews by Martha's Bookshelf
&
I Am A Reader, Not A Writer
What is a giveaway hop?
Simple - Each participating blog hosts a giveaway and then we link up together allowing our followers to hop easily from one giveaway to another.
For followers that means lots of chances to win free books.
For host blogs it means lots of new visitors and followers.
It's a win-win!
The Dreaming of Books Giveaway Hop will run from 12:01 AM Friday, January 14th to 11:59 PM Monday, January 17th.
Each participating blog will host their own giveaway. There is no requirement on the minimum or maximum value of your giveaway. It's up to you to decide. You can give away books, swags, amazon gift cards, or anything else you can think of that has to do with books. Your giveaway can be as simple or as elaborate as you want.
All participating blogs will be linked up through a Dreaming of Books Giveaway linky. You will be given the linky code to add to your blog so that readers can jump from one giveaway to the next.
Please keep the process to enter your giveaway as simple as possible.
Please no long lists of dozens of different things followers can do to gain extra entries
Please help spread the word. The more blogs participating the better! It will mean more visitors and new followers for your blog.
Giveaways can be US, US & Canada or International.
Please create your giveaway post before the giveaway starts and then set it to be posted at 12:01 AM EST on January 14th.
*Dream Guy by Candy Halliday
Video game designer Annie Long decides if she can't find the perfect man, she'll create him. Available on interactive DVD, Joe Video is the ideal boyfriend for the modern woman. But soon Matt, Annie's ex and boss, is proving himself to be more perfect than Joe Video ever could be. Original.
*Haunted Dreams by Charlotte Lamb
He had achieved success that others could only dream about - and envy. Was that why Ambrose Kerr held everyone at arm's length? Emilie assumed that he would never want her, because she was so young and naive. But then she discovered the reason why Ambrose was so wary -- he hid an incredible secret. The truth only made Emilie want Ambrose more, but it was also dynamite ... if others got to know the real story, their new-found happiness would explode ...
Only My Dreams by Rowan KirbyPerchance To Dream by Robert B. Parker
In a sequel to Raymond Chandler's The Big Sleep, Marlowe takes on a case involving General Sternwood, who is six feet under, Vivian, who is dating a blackmailer, and Carmen, a sanitorium escapee