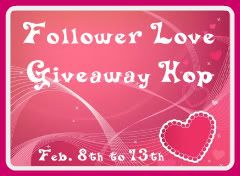 Welcome to the Follower Love Giveaway Hop!
This event is hosted here at I Am A Reader, Not A Writer. 200 Blogs have each signed up to host a book related giveaway and we are all linked up together allowing you to easily enter one giveaway then hop to another one.
Tips:
Print off the linky list of giveaway sites and cross them off as you enter them.
You don't have to go in order - you can start in the middle or at the end of the list and work backwards.
The Follower Love Giveaway Hop runs from Tuesday, February 8th to Sunday, February 13th. Winners will be announced on each blog on Valentine's Day.
Valentine Pontifex (Majipoor: Lord Valentine #3) by Robert Silverberg
The extraordinary story continues in this volume of the bestselling Majipoor Chronicles, begun in Lord Valentine's Castle. Now dark dreams disturb Lord Valentine's sleep, a forewarning of the danger that threatens the peace of Majipoor. The Shapeshifters have set in motion a terrifying plan to regain their stolen world.
Crazy In Love by Lani Diane Rich
Flynn Daly is turning thirty. And thirty is the age where she has to, gulp, get a job. Not just any job, but a job working for her real estate magnate father, a man who's tired of supporting his daughter through her many careers. So when their great-aunt Esther Goodhouse, proprietress of a historic inn nestled in Nowhere, New York, dies, Flynn finds herself smack dab in the country, contending with a hotel staff that's unsure of their new boss, a scruffy, sexy ex-policeman named Jake Turner who's convinced that Esther's death wasn't as natural as it seemed, and the ghost of Aunt Esther herself, who starts showing up in Flynn's dreams and undoing all the personal touches that Flynn tries to make to her new home.
No Greater Love by Danielle Steel
While hearts may go on after a tragedy occurs, they are never the same. Prolific bestselling author Danielle Steel revisits this familiar theme in No Greater Love. Twenty-year-old Edwina Winfield is forced to assume the role of head of the household, becoming both mother and father to her five younger siblings after her parents and beloved fiancé drown during the disastrous sinking of the Titanic. Determined never to marry, Edwina must also run the family newspaper until her younger brothers are old enough to step in. But next-in-line Phillip heads first to Harvard and then is tragically killed during World War I. Fun-loving George is wooed by the lights of Hollywood and exquisite sister Alexis follows in his footsteps. While tending to the youngest children, Fannie and Teddy, Edwina must assist the rest of her siblings out of their many scrapes and escapades. Along the way, she comes to terms with her loss and is finally able to put the events of the fateful night of April 15, 1912, the night the Titanic made its final voyage to the bottom of the sea, behind her and let love into her heart once more.
Scandal's Bride by Stephanie Laurens
When Catriona Hennessey's uncle's cleverly crafted will offers her the choice of either marrying the scandalous Richard Cynster or leaving her innocent cousins penniless, Catriona is appalled. If she marries at all, she wants a consort who would allow her to continue to act as healer and serve "The Lady," as the women in her family have always done. She knows Cynster is far too overbearing to be that person. The Lady, however, has other ideas. Laurens takes full advantage of the current New Age interest in ancient Goddess worship to weave a steamy story with strong, well-matched protagonists, lively action, and love scenes that melt the pages. Although the novel is set during the British Regency, the period has little influence on this patricular story; readers who want a bit more Regency flavor might enjoy earlier books in the Cynster series. Laurens (A Rake's Vow, Avon, 1998) lives in Victoria, Australia.