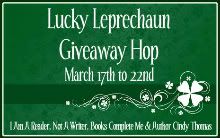 2nd Annual Lucky Leprechaun Giveaway Hop
March 17th to 22nd
Co-Hosted By Books Complete Me & Author Cindy Thomas
My Giveaway - There will be 2 (two) Winners:
Giveaway #1
Irish Dreams by Nora Roberts (rish Rebel & Sullivan's Woman)
"Irish Rebel"
She was practically royalty--the daughter of a rich, renowned horse-breeding dynasty. He was just a hardworking horse trainer. But Brian Donnelly was in America now, where even he might aspire to possess the breathtaking Keeley Grant. Her wealth and position didn't deter Brian...for it was the innocence Keeley offered him that beguiled the wild Irish rebel and threatened to corral his restless heart.
"Sullivan's Woman"
Fired from yet another job, captivating model Cassidy St. John hardly expected the solution to her difficulties to come from an absolute stranger. When handsome, charismatic Colin Sullivan offered her a job modeling for one of his paintings, it seemed her troubles were over--but one look at his blue eyes and Cassidy knew they were only beginning....
Or.......
Giveaway #2
Irish Hearts by Nora Roberts
Two complete novels.
Adelia Cunnane. Her hot temper sent the heart of Travis Grant aflame. Now the proud, powerful owner of Royal Meadows horse farm resolved to make this wild Irish Thoroughbred his own.
Erin McKinnon. A bold beauty, she accepted Burke Logan's loveless proposal and his cool promise of security and wealth. But could this ravishing Irish Rose win her hard-hearted husband's love?
Good Luck May The Luck of the Irish Be With You
a Rafflecopter giveaway