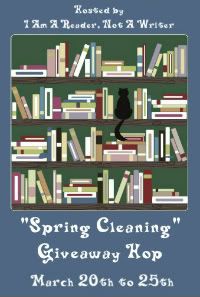 Do you have books sitting on your bookshelves that you've read but will never read again?
How about books you've started but just couldn't get through?
Review copies you've accepted but have never read?
It's time for some spring cleaning!
This is your chance to clear out your overflowing bookshelf and pass some of your books on to other booklovers. Time to pass on those books that just weren't for you or the review copies that you are never going to get read.
March 20th is the first day of spring, the perfect time to remedy an overflowing bookshelf.
Spring Cleaning Giveaway Hop - March 20th to 25th
I think I will enjoy this hop. I'm hoping to pass on (not get rid of) some books that need to move on to good homes.
I have a variety of genre, since some I had gotten for my dad to read (westerns) and some I mine. There will be a winner for each book as long as someone chooses it.
Due to shipping cost I will only be shipping in the US.
I hope to get organized before the next one some I can have a better choice of books and some ARCs and review books to pass on.
Thanks for joining this hop and hope you fine some nice books.