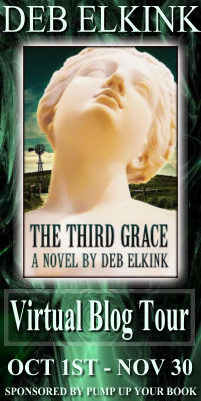 Describe your book in five words or less.
Besotted farm-girl pursues Parisian grace.

How did the ideas for your book come to you?
I fell in love with a statue grouping in the Louvre the first time I was in Paris—a marble sculpture of The Three Graces, Greek goddesses who represent the arts. The lovely lines of the feminine nudes in their posture of intimate friendship brought to my mind the relationship we women share with—or withhold from—one another and ourselves. The conflict of my main character in running from her past fit in nicely with the French and Ancient Greek cultural implications, especially when I threw in a healthy dose of romance.

Is there a message in your novel that you want readers to grasp?
We are all being called back to face who we once were as we look at what we're now becoming.

What is the hardest part of writing for you? What's the easiest?
I love both tasks, but dreaming up the plot, characters, and detailed essence of the story comes more naturally to me than hammering out the words and editing them for exact effect. It's sort of like when I sew a dress: The whole project is a pleasure but I delight most in the creative aspect of buying the fabric—smelling the linen and fingering the wool, rubbing the silk on my cheek—and next in planning the style; a little less in actually cutting, stitching, fitting, steaming; and then sometimes I leave the garment hanging in the closet for weeks before wearing it.

What's next for you? Are you currently working on or have plans for future projects?
My work-in-progress is a novel in which a Minneapolis salesclerk being harassed by a bag lady is on the verge of her first home purchase, while her best friend is begging her instead to travel along to "sacred sites" around the world. She escapes the city to tour a mansion museum in North Dakota, discovering her own heritage and the true meaning of "home."

Why did you choose to write for specific genre?
I find that all the big questions in life can be considered in the context of a woman in relationship with others, with God, and with herself—especially as this context allows me to tell my story by engaging the five senses and the mind in order to get to the heart of the issue.

What's it like hearing that readers are eagerly awaiting your book's release date?
This gives me a joyful sense of urgency and responsibility! I'm a chatterbox and am always blurting out my reactive opinion about something or other, but putting this in the form of written story makes it somehow more weighty, more consequential. It's easy for me to get carried away by the pleasurable experience of spinning the tale, but I'm always aware of my self-imposed mandate to communicate the underlying point.

What is one question that you've always wanted to be asked in an interview? How would you answer that question?
"Are writers born or made?" I'd say that nothing conjured up in the imagination is worth reading by others without the authorial spilling of blood, sweat, and tears!

What was your road to publications like?
I consider myself fortunate: My manuscript was taken on by a literary agent just as the economy was tanking and publishing houses started gasping over the eBook revolution. The novel didn't sell quickly, and when it finally saw print in December 2011 after three years of floating around editors, I was ecstatic that it was one of the early electronic books put out by a relatively new publishing house. It's in the best of both worlds—eBook and paperback—so it's easily distributed but also a pleasure to touch and hold. I love the cover art! The Third Grace won the prestigious 2012 Grace Irwin Award (a $5,000 prize sponsored by The Word Guild), and this validation by a jury of my peers has deeply honored me.

About the Author:

When author and city-slicker Deb Elkink fell in love and married an introverted cowboy, she moved from her bright lights to his isolated cattle ranch far off in the prairie grasslands. Still—between learning to pilot a light aircraft, sewing for a costume rental store, and cooking for branding crews of a hundred—Deb graduated with a B.A. in Communications from Bethel University in St. Paul, MN; she also holds an M.A. in Theology (both summa cum laude).
Her award-winning debut novel, THE THIRD GRACE, is set in the contrasting locales of Parisian street and Nebraskan farmyard, and incorporates Greek mythology and aesthetics with the personal search for self. Her writing has been described as "layered and sumptuous," "compelling," and "satisfying."
Visit her
website
Friend her at
Facebook
Pick up your paperback copy of Deb Elkink's THE THIRD GRACE at
Amazon
Download your ebook copy of Deb Elkink's THE THIRD GRACE at
Amazon
Pick up your paperback copy of Deb Elkink's THE THIRD GRACE at
Barnes & Noble
Pick up your paperback copy of Deb Elkink's THE THIRD GRACE at
Chapters/Indigo
About the Book:
WINNER OF 2012 BOOK OF YEAR AWARDThe past casts a long shadow — especially when it points to a woman's first love.
Her name was Mary Grace until she fell in love with the French exchange student visiting her family's Nebraska farm. François renamed her "Aglaia" — after the beautiful Third Grace of Greek mythology — and set the seventeen-year-old girl longing for something more than her parents' simplistic life and faith.
Now, fifteen years later, Aglaia works as a costume designer in Denver. Her budding success in the city's posh arts scene convinces her that she's left the country bumpkin far behind.
But "Mary Grace" has deep roots, as Aglaia learns during a business trip to Paris. Her discovery of sensual notes François jotted into a Bible during that long-ago fling, a silly errand imposed by her mother, and the scheming of her sophisticated mentor conspire to create a thirst in her soul that neither evocative daydreams nor professional success can quench.
The Third Grace is a captivating debut novel that will take you on a dual journey across oceans and time — in the footsteps of a woman torn between her rural upbringing and her search for self.
Book Trailer: