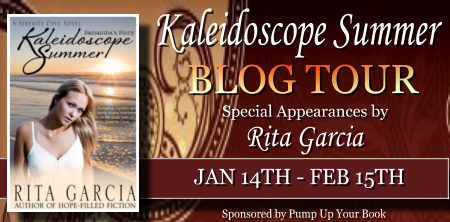 What's next for you? Are you currently working on or have plans for future projects?
 
Kaleidoscope Summer, is Book One of the Serenity Cove Series. I'm currently polishing Tangerine Morning, Book Two of the Serenity Cover Series, due out later this month. I'm really pleased with the way romance, mystery and family drama intertwines in this story.
Jezzica Shaffer, a young widow, struggles in her relationship with Christ and with starting over. She moves to Serenity Cove and purchases the Sea Glass Bookshop on Main Street.
Detective Zack Johnston, the first man her heart reacts to since her husband's death, also represents a world that failed to bring her husband's murderers to justice. Can she find her way back to Christ and the freedom to love again?
 
Is there a message in your novel that you want readers to grasp?
 
The stories are written for the reader's enjoyment. Romance is a big part of the Serenity Cove novels. Hope is an even larger element of the stories. Life often takes us on paths that are filled with twists and turns. There are many unexpected life dilemmas that cause us to struggle and sometimes lose our way. Thankfully, we find our answers in God. Through Him we always find hope. So if a reader finds encouragement while enjoying the characters and stories from the Serenity Cove series, then as an author, I couldn't be more pleased.  
 
How long did it take you to complete your first manuscript? Did it fly from your fingertips, or did the story emerge slowly?
Somewhere in the middle, while it didn't fly from my fingertips, the story did emerge fairly quickly. The first draft only took a few weeks to write—the rewrites have taken longer. To quote Michael Crichton, "Books aren't written – they're rewritten." With each step of the journey the novel has emerged much like a rose bud blooming into a full honey scented rose.
 
What sparked the idea for the Serenity Cover series? Did you begin with a name or place? Did scenes start playing in your mind? Or perhaps your characters began chatting?
The characters that reside in the fictional town of Serenity Cove first appeared in a weekly challenge entry, on FaithWriters.com. The character of a deaf young woman stayed with me. Like pulling on a loose thread, her story kept unraveling in my head. One morning I opened my computer and felt an intense prompting to write her story. Less than six weeks later I typed the end on an eighty thousand-word manuscript. Of course, that was only the beginning.
 
Are you one of those writers born with a pen in your hand and ideas flitting through your mind, or did your interest develop later?
Among my mother's things I found stories I had written, in that awkward printing letters stage children go through. The stories were complete with illustrations, mostly roses. I've always loved the idea of romance and happy ever afters. I'm definitely a soft touch for all of the fairy tales. I watched them with my daughters and now how exciting to get to watch them again with my granddaughters.


ABOUT KALEIDOSCOPE SUMMER: SAMANTHA'S STORY

Samantha Forrester has it all together. Deafness at age fifteen has not hampered her success. Life, although predictable, has hit a comfortable stride. Until.
Her world crumbles when secrets of the past are brought to light. She travels to Serenity Cove to settle her birth mother's estate and search for her true identity. Samantha soon becomes enamored with the town. And then there's police chief Logan Delatorre who startles her pulse, and grandparents who refuse to acknowledge her. More mystery unfolds when an attack is levied against her—someone wants her out of Serenity Cove.
Samantha's faith is called into question when she stumbles over the need to forgive. Can Dr. Ellie Clarimonde help her connect the pieces of her past and learn the power of forgiveness?
About the Author
Dr. Rita Garcia is an inspirational novelist—her imagination was creating stories when she was still too young to put pen to paper. Romance is a big part of her novels. Hope is an even larger element of the stories. Rita and her husband reside in Southern California. They have four adorable daughters and seven fantastic grandchildren who fill their lives with love and never a dull moment.
She is a Clinical Christian Counselor, licensed by the National Christian Counselors Association, and certified as a Biblical Christian Counselor by the American Association of Christian Counselors. She has a passion for helping others achieve their most important life goals.
Please visit Rita at her blog and website:
Blog
Website