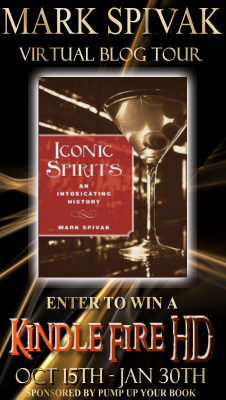 Describe your book in five words or less.
Untold stories behind the world's greatest spirits (seven words, sorry).

How did the ideas for your books come to you?
In this case, it started when I was sitting around one day thinking about Campari. I had done a piece on it about six months earlier, and didn't really like it because of the bitterness. I thought about how strange it was that we have bitterness receptors on our tongues to warn us that we might be about to consume something that is toxic or poisonous, yet Campari has been marketed as the sexiest beverage on earth. I began talking to scientists who were doing research on the physiology of taste, and they all had different theories about it.
From there, I just kept discovering amazing, untold stories in the world of spirits, and realized I had a book on my hands.

Is there a message in your novel that you want readers to grasp?
The book is non-fiction, but there's a very strong theme of entrepreneurship that runs through many of these tales---people who created something out of nothing, sometimes at great risk to themselves. I think that would be a great message for readers to absorb.

What is the hardest part of writing for you? What's the easiest?
The writing itself is a joyful process. Marketing and promotion are more difficult.

What's next for you? Are you currently working on or have plans for future projects?
I have a number of ideas for the future, and my next book will undoubtedly be about the enjoyment of life in some form.

Why did you choose to write for specific genre?
I had been writing about wine and reviewing it for several decades, and doing a certain amount of writing about spirits as well. Regardless of your genre or niche, readers want to be told a compelling story, to discover some aspect of a subject they didn't previously know.

What's it like hearing that readers are eagerly awaiting your book's release date?
The book was published in November, and it's wonderful to hear that people are pleased with it. I just received an email from a reader complaining that the book cost him a night's sleep, that he was unable to stop once he started. It doesn't get much better than that.

What is one question that you've always wanted to be asked in an interview? How would you answer that question?
Q: Boxers or briefs? A: Briefs

What was your road to publications like?
In this case, it was relatively seamless. I had a great agent who sold the book in record time. I was amazed and delighted, and remain so.


About the Book:
Iconic Spirits: An Intoxicating History (Lyons Press; hardcover, $16.95), by Mark Spivak, is a compelling portrait of twelve spirits that changed the world and forged the cocktail culture. Some are categories and others are specific brands, but they are all amazing, resonant and untold stories. Each chapter closes with recipes for the most popular and important cocktails.

What's the relationship between moonshine and NASCAR? Why was absinthe considered to be the most dangerous substance on earth? What was the cause of the Gin Craze in 18th century London, an epidemic of mass drunkenness that continued for fifty years? How did a homeless man become the 165th wealthiest person in America?
"These are the best types of stories," says Spivak. "They are the kind a writer could never make up."

Pick up your copy of Iconic Spirits at Amazon


About the Author:

Mark Spivak is an award-winning writer specializing in wine, spirits, food, restaurants and culinary travel. He was the wine writer for the Palm Beach Post from 1994-1999, and since 2001 has been the Wine and Spirits Editor for the Palm Beach Media Group, as well as the restaurant critic for Palm Beach Illustrated. His work has appeared in National Geographic Traveler, Robb Report, Ritz-Carlton, Continental, Art & Antiques, Newsmax, Dream of Italy and Arizona Highways. From 1999-2011 he hosted Uncorked! Radio, a highly successful wine talk show on the Palm Beach affiliate of National Public Radio.
Mark began writing Iconic Spirits after becoming fascinated with the untold stories behind the world's greatest liquors. As a writer, he's always searching for the unknown details that make his subjects compelling and unique.His latest book is Iconic Spirits: An Intoxicating History.
Visit
Mark's website
Become a fan of Mark Spivak at
Facebook
Book Trailer:
a Rafflecopter giveaway