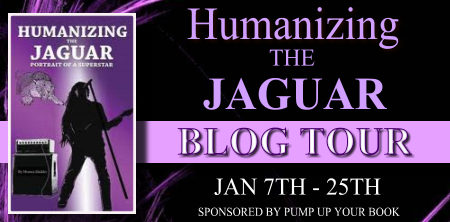 Things I didn't know about becoming a published author
While finishing up my story "Humanizing the Jaguar" I sent out several query letters. If I did received a reply it was a no thank you. This was a big surprise to me, how little interest big publishing houses showed to a new author. Some other things that I was unprepared for include:
That the industry has changed dramatically in the last several years.
That one needs an agent to be published by a major house.
But a publisher doesn't want you unless you have an agent. I call this the circle effect.
That only 1% of new authors are signed yearly through a major publisher.
Agents and publishers do not want to take the time familiarizing the public with a new author.
They want already established authors this also includes the few new authors who are able to get the attention needed to prove their work is saleable.
That factual and self-help books have a better chance at getting picked up.
That POD (Print on Demand) companies have become much more accepted and it's no longer a stigma to be self-published. New and established authors alike are using this new technology to their advantage.
Either way traditional or POD the author is still mainly responsible for promotion.
But with POD the author has more control of all aspects that include story content and what form of promotion they want.
But most recently the wave of the future is for all authors to have blogs, websites, and any and all kinds of social media to get their stories out there. Internet is the home of authors today making our products available on sites such as Amazon and the Kindle since the brick and mortar stores are fading away we have to keep up with the times. I've learned this is certainly a new type of market then it was just a few short years ago.
About the Book
How do you tame the untamable? Bryan Wharton has been through more than any child should bear, leaving him emotionally scarred. When his new family proves to him that love and encouragement do exist, Bryan pursues his only dream. With the friendship and support of a few boys from school, they succeed in making their wild fantasies of becoming rock stars a reality. Through their hard work they rise to fame, while Bryan's confident, cocky attitude generates animosity within the group. After a particularly grueling ordeal, he meets a young woman who captivates him in ways like no one else ever has. Donna's ignorance over who he really is and her genuine concern during their fleeting time together allows him to freely open up to her. The two form a bond, becoming oddly entwined. After getting back to what Bryan knows best, he realizes he needs to devise a way for Donna to be near him for what he believes is his own selfishness. Donna was ready for an adventure knowing she'd become the envy of young women worldwide and was hoping that this could lead to more. What does this mean for the two-friendship, love or? As an added bonus this book also includes a game. There are many music clues scattered throughout the text. How many of the hidden clues can you find?
About the Author
Monica Daddio was born and raised in Trenton, NJ. She attended St. Stephens and Holy Cross grammar schools, Junior 4, and
Trenton High. From there went to wrok for Mercer County Elections Office. Most recently she has retired and relocated to the Bristol VA/TN area. Her passion and love has always been music and she will jokingly tell you that she is a professional listener. With a vast collection of over 500 artists, she has a wide range of musical taste and that's how her story came to be. This is her tribute to the musicians and music she loves so much.
To find out more visit her website at : www.monicadaddio.com or at http://www.humanizingthejaguar.com